Meet The Team
While in our care, you can have the peace of mind knowing your pet is receiving the best spa care from our team of talented groomers.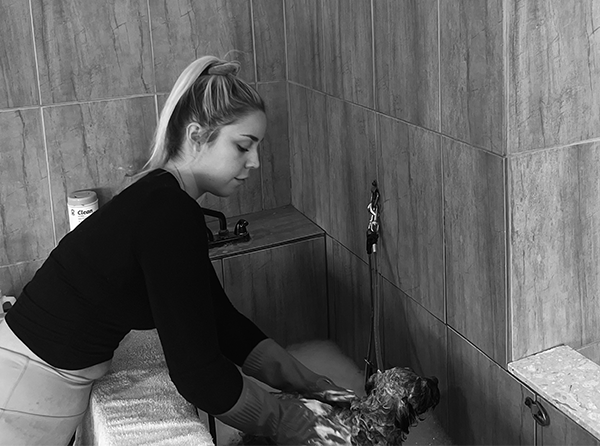 Our pet grooming process will keep your pet feeling relaxed and safe.
At Meg's Paw Spa, we groom with love. With years of pet grooming experience, we understand that each beloved pet has specific needs. That is why each visit to Meg's Paw Spa is tailored to your pet, with a focus on their comfort. You can trust that your pet's paws are in good and gentle hands. That's Meg's promise to you and your pet.
Paw-sitive Comments
Meg was absolutely wonderful, Mr. Bean is Happiest again and his Ole self. playing and purring. he's the lion boss cat of the house again. I'm looking forward to coming back with Mr. Bean. thanks again and for moving up his needed appointment. I couldn't imagine him waiting another few weeks in his condition.
Paw-sitive Comments
What a lovely experience!! Meg was able to trim my cats nails after several failed attempts at the vets office. She was so welcoming, kind and patient with my kitty who was a bit stressed based on his experience at the vet. My pup is going tomorrow and I am so confident he will have a great experience as well. Thank you so much and I will be recommending to friends, family and other furry friends we meet on our walks
Paw-sitive Comments
We use to send Herc to our vet to get groomed and they wanted to sedate him. We thought that was weird as he doesn't have an aggressive bone in his body… so we took him to Meg, and gave her the warning that our vet was struggling to groom him. She said she would like to get to know him and try his first groom and she would let us know how it's goes. Of course I was nervous but she sent me pictures and videos of him doing AMAZING! No problems at all, he loves her! Getting groomed isn't his favourite thing but he is so comfortable with her, and therefore we are so comfortable with her! She is legit a dog whisperer and we can't recommend her enough! He always comes back looking so good and fresh! Thanks for your compassion and skill Meg!
Your pet deserves to feel

beautiful

again!